Experience playing Massacre using different powerful characters with individual abilities
- Abilities are based on character's suit and their own genetics
- Each ability can be upgraded in variety of aspects after you reach a certain amount of experience in the game
- Mix multiple abilities and you can perform combos!
- Combos are the best way to gain experience fast. The faster you level up, the more features including upgrades and new abilities will be unlocked!
Meti Black is able to control repulsive forces and his suit has the most powerfull armor amongst others. He uses his big strong fists to fight against enemies who have the guts to face him. Do you think there would be anyone who could survive against his mortal and powerful attacks? Well, we doubt it and...
When it comes to using razors and blades, Xickerz is an expert. He is exteamly fast, can spin like a windwhirl and move in an incredible speed. Made of a high strength super alloy, those deadly blades are part of his suit. Lots of courage is needed to get you close to him. Using his sharp and cutting blades...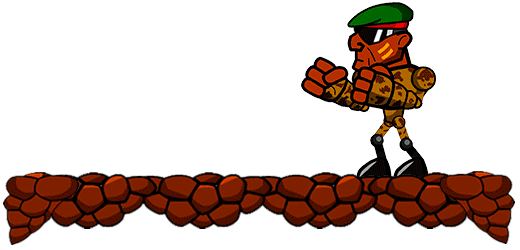 Cocodrillo
Cocodrillo has one of the most weired and extraordinary human genes. It seems that his body is made of explosives! Explosion does not harm him, he can even absorb the explosive energy to heal himself, he can explode all of his body parts without any harm. As for the suit...
And More Characters to Unlock!
Keep playing and you will discover more characters to play with!